Taos, NM: June 14 - 16, 2019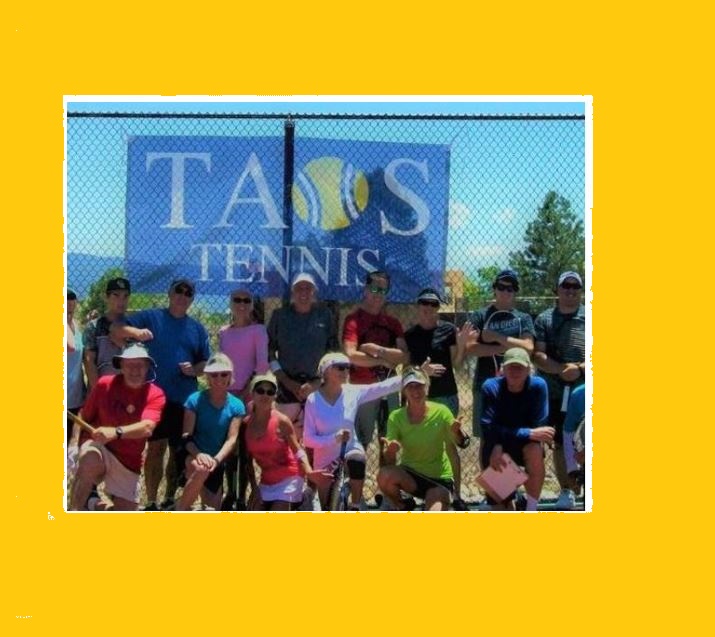 Taos, NM: June 14 - 16, 2019
Your spot is not secure until you complete registration in Shopping Cart
Pickleball coach - Parker Curry: 2018 - Bronze USAPA Great Plains Regional Doubles / Silver at US Open Championship / Gold at Grand Canyon State Games. 2017 - Silver USAPA Great Plains Regional Doubles.
Taos is a town in northern New Mexico's high desert, bounded by the Sangre de Cristo Mountains. Taos offers many galleries and museums showcasing regional artwork.
Date, Time & Location
Tennis - Jun 14-16 at 9:00am - 12:00pm MDT
Pickleball - June 14-16 at 9am, and 10:30am MDT (see schedule below)

Quail Ridge Resort, 88 NM-150, El Prado, NM 87529
Schedule
- Tennis: 9:00 am to 12:00 pm all three days
-Pickleball: - 2 clinic times available all three days: 9am-10:30am & 10:30am-12pm

- Saturday June 15 Tennis and Pickleball Round Robins open to all camp participants. Round Robins are from 1pm-2:30pm. Included is a buffet sandwich luncheon at the courts, at 12:30pm, for all camp participants.
Saturday's Tennis and Pickleball Round Robins for non-registered campers 12:30pm June 15: $20 Round Robin fee if you would like to join us for the Round Robin ONLY. This does not include a camp day(s). Price includes the sandwich luncheon. Please join us at 12:30pm on the courts for the luncheon followed by the Round Robin
Pricing
Tennis: $110 for single day
$210 for two days
$290 for all three days
Pickleball: $30.00 per clinic. We offer 2 clinics per day: 9am and 10:30am
Travel
Fly into Taos
4 Hours from Colorado Springs
5 hours from Denver
1.5 hours from Santa Fe
Lodging
Quail Ridge Taos quailridgetaos.com/
Quail Ridge Taos Reservations: 575-776-8833
Quail Ridge Taos Tennis: 575-776-2585
Dining
Lamberts (5 star)- American Contemporary (575) 758-1009
The Love Apple- American (575) 757-0050
Orlando's- Mexican (575) 751-4431